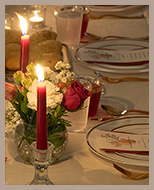 Southern Adventist University has two options for guests:  Guest Lodging units, and Southern Village (student housing) apartments.  
Guest Lodging units are two-bedroom suites, with linens. They run $99-125 per night, depending on what is provided beyond linens. (see southern.edu/administration/lodging/)

Southern Village apartments are an AFS special, and have basic furniture (beds, dressers, couch, table, chairs) but NO linens or kitchen utensils.  They do have a lovely kitchen area with stove, full-size refrigerator and dishwasher (no microwave).  They are also two-bedroom, and have four twin beds.  (Note, these are NOT mentioned on Southern's website.)

For exact pricing and reservations, call 423-236-7000 or email guestlodging@southern.edu.  Be sure to mention At First Sight, as Guest Lodging sometimes gives our families a discounted rate.
Because Southern Adventist University reflects the health-conscious attitudes of the Seventh-day Adventist Church, the campus is tobacco and alcohol free, and meals served are vegetarian. Coffee and other caffeine drinks are not generally available on campus, so coffee lovers may wish to bring their own instant and a mug.
Some Local Motels (within about 20 minutes of Collegedale)